X-ray Shielding
International regulations require that diagnostic and therapy departments are built to ensure that radiology and radiotherapy staff, personnel working in the vicinity of a radiation source, patients and members of the public are exposed to the minimum amount of radiation.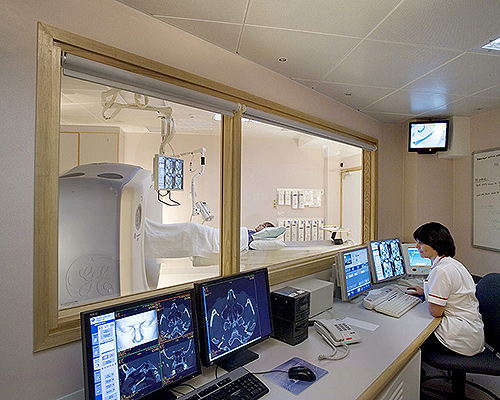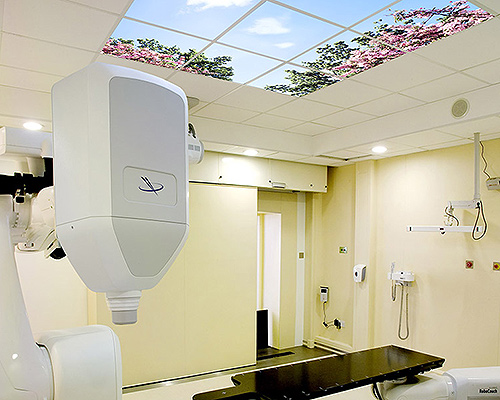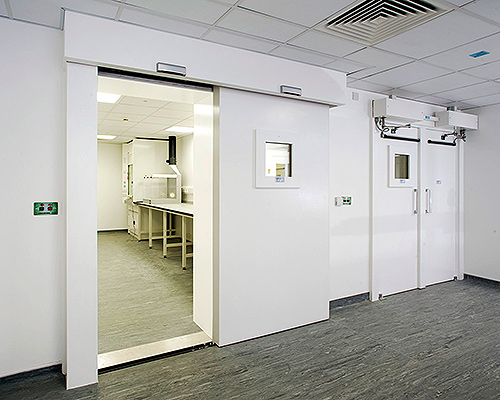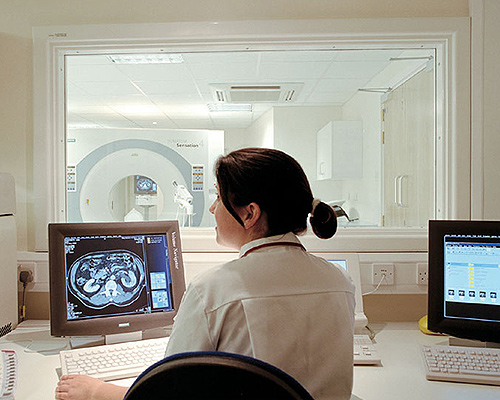 This requires protective barriers within walls, floors, ceilings, entrance doors, windows and for the staff working in a diagnostic x-ray room. We offer a complete range of shielding products and services to accomplish this.
Although any dense material will provide an element of shielding, sheet lead has many advantages. It is particularly effective in door sets, screens, panels and floors where space is at a premium or where the introduction of "wet trades" may cause inconvenience.
Sheet lead is, however, malleable and cannot be guaranteed to remain at a constant thickness if applied to a vertical surface. It is therefore most effectively used when bonded to plasterboard, plywood or a similar board for cladding walls, floors and ceilings. We use it in a modified form to produce doors, screens and protective cubicles.
Where there is a requirement for a lead thickness in excess of 10mm, interlocking lead chevron bricks are a useful and cost effective alternative.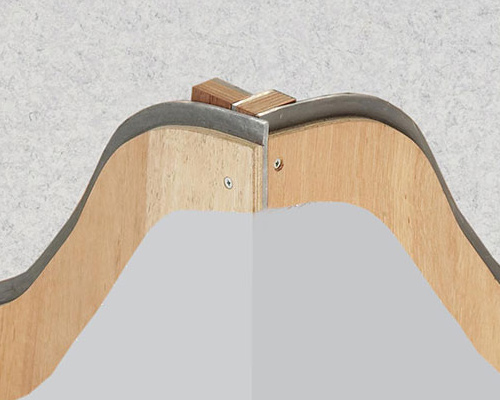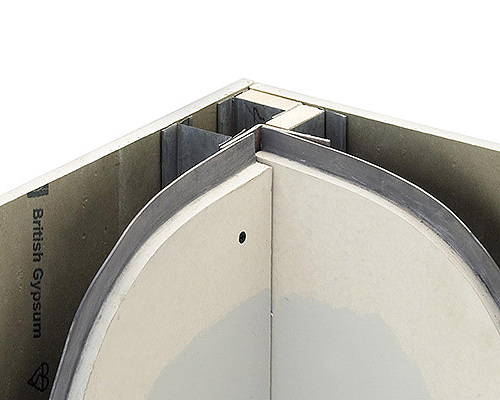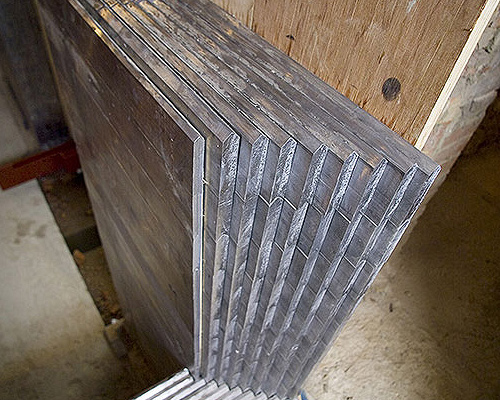 QuantaShield™ is our latest environmentally friendly solution to radation shielding developed in conjunction with RP&S. This versatile system combines normal and high density concrete blocks which can be integrated with conventional shielding materials where required, for X-ray, Gamma-ray, Proton, Neutron, Magnetic Resonance and EM-wave facilities.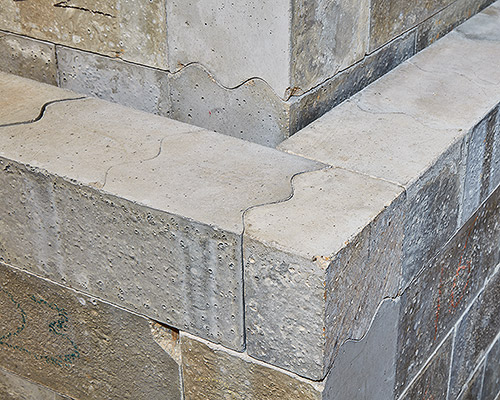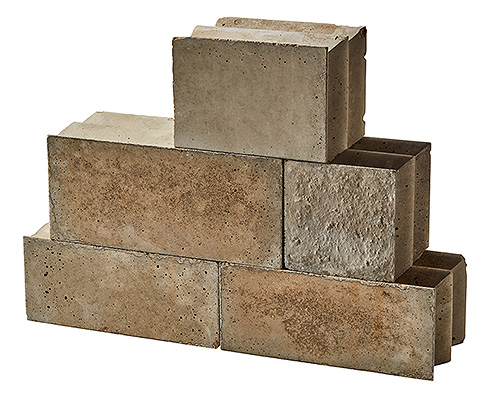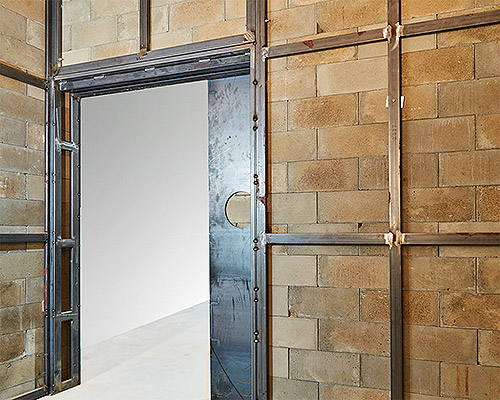 It is a modular system which can be quickly installed without mortar. Combining structural and shielding properties, it offers significant savings on floor space compared to traditional construction and secondary shielding techniques.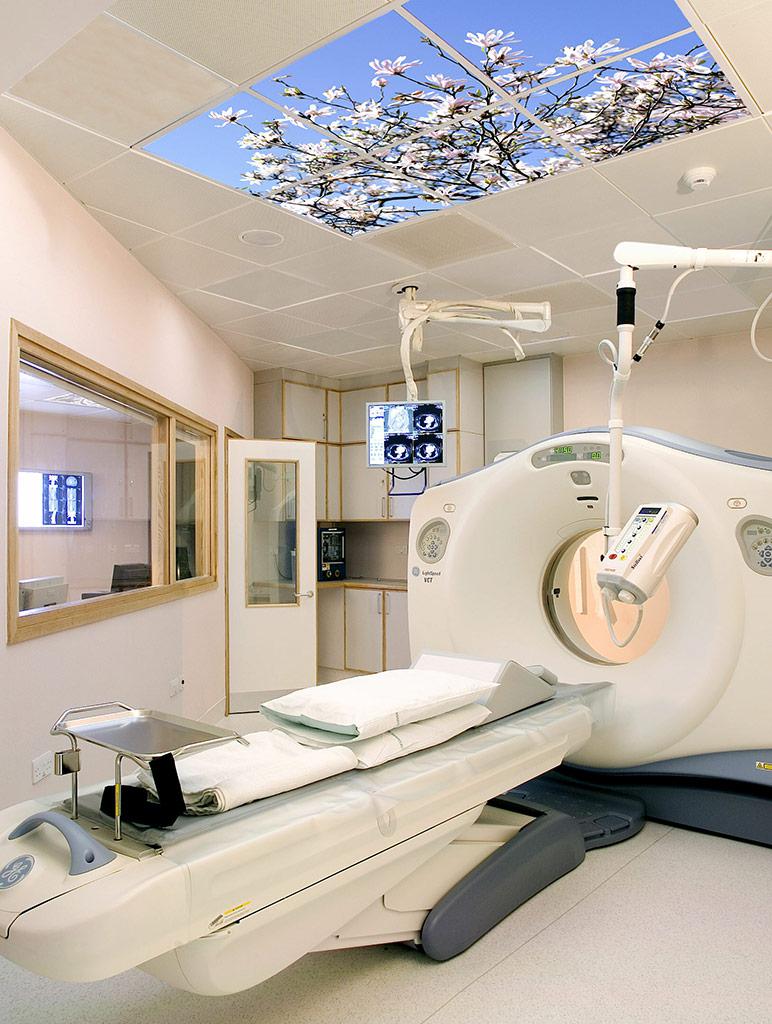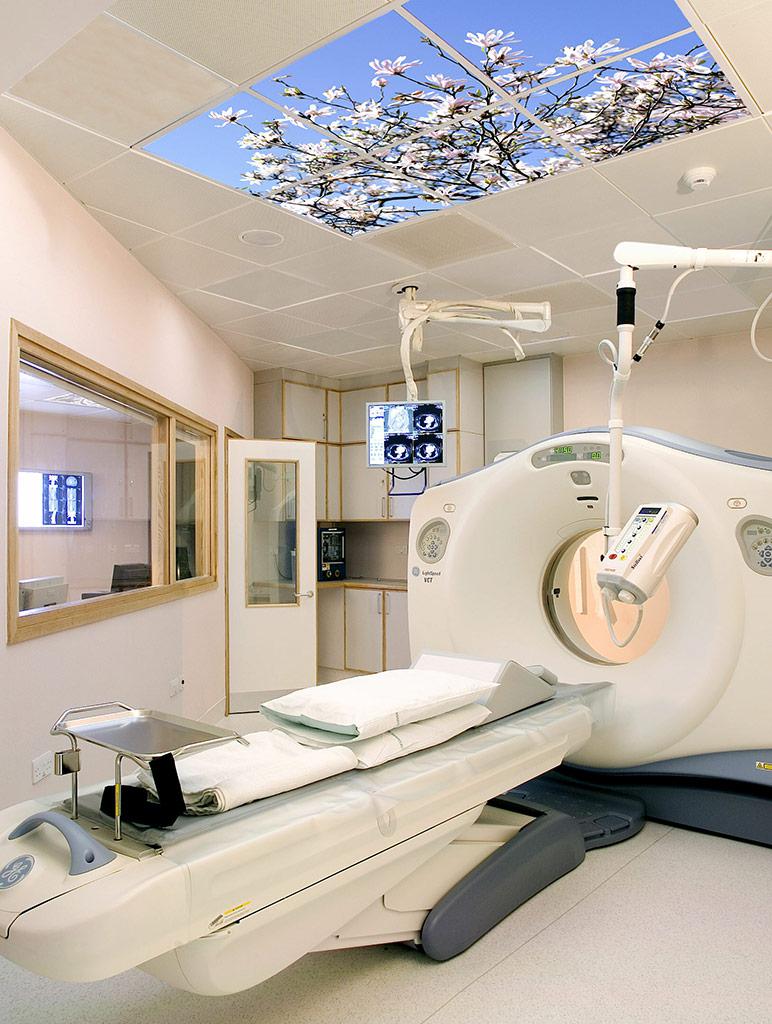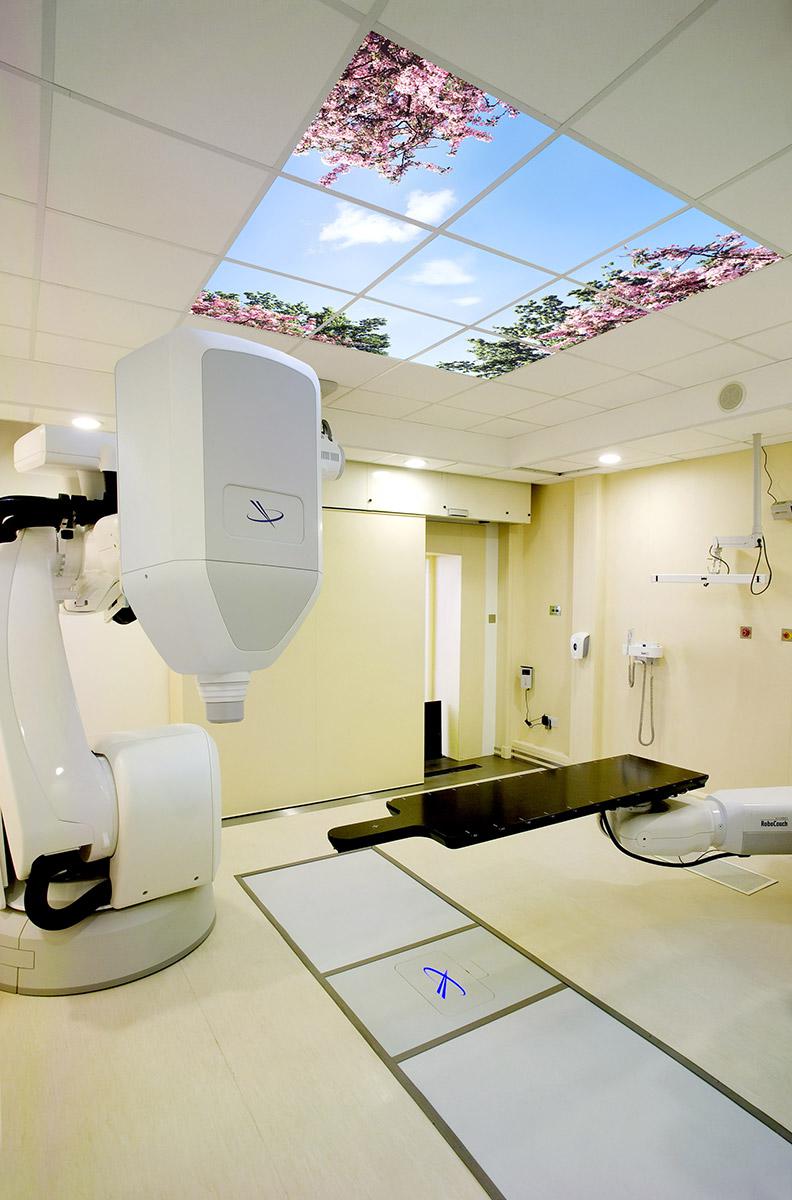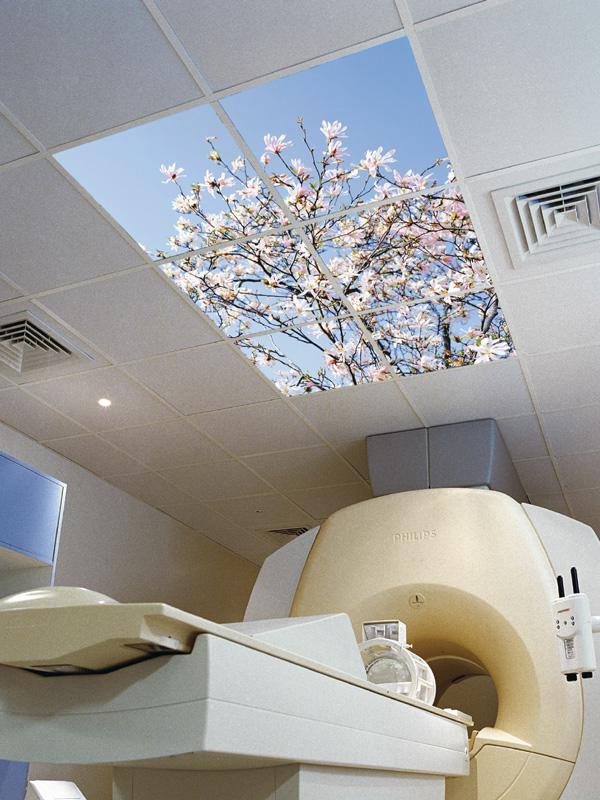 Wardray Premise are experts in bonding lead to plywood and plasterboard to produce panelling for radiation shielding.
Applying panels to an existing wall would normally require the installation of battens. Using a leaded batten completes the same groundwork with the advantage of full protection to the panel joints.
For dry lining partitions in a number of differing profiles it is acceptable to introduce lead tape of a similar lead thickness to the panel. This is applied to the front face of the stud. The panels are then fixed through the tape into the stud which provides full protection to the joints.
Wall panels are supplied up to 600mm wide and to a maximum height of 3000mm. They are single sided but with a minimum plasterboard thickness of 12.5mm.
Should protection be required in excess of the 3000mm maximum panel height, a horizontal noggin is introduced (either leaded batten or leaded tape) to provide protection at that panel joint. Additional lead lined horizontal battens or plates can be supplied in widths to suit fixing of viewers, electrical outlet sockets, apron racks, cupboards etc. Protection to pipes and ventilation ducts can also be provided.
If protection is not required to the full height of the board, lead can be applied to the lower area and the plasterboard left untrimmed to provide a flat front surface to 3000mm. As an alternative a top capping can be supplied.
Panels and battens are easily cut using conventional hand or power saws.
For ceiling panels we recommend the bonding of lead to 12mm plywood for structural strength. It is recommended that the overall panel weight does not exceed 25kg.
For floor protection, the plywood can be reduced to 9mm and the edges rebated to receive lead tape, protecting the joints and giving a flush finish.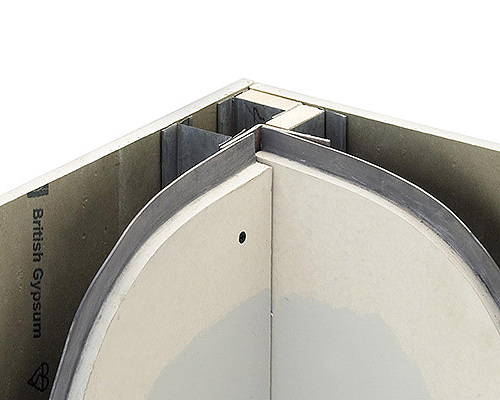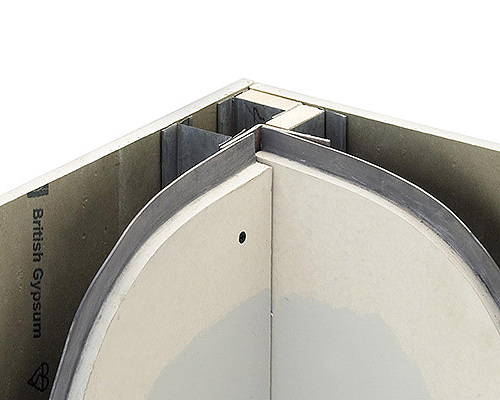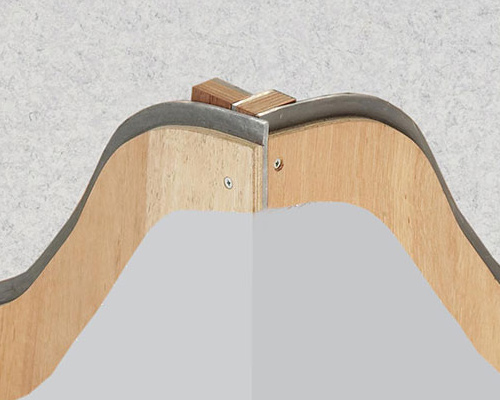 Our hinged and sliding doors provide X-ray shielding for a structural opening. The construction will be based on the energy emitted by the x-ray or Gamma source, the structure and shielding composition of the surrounding walls, together with the work procedures of each specific room.
The lead thickness will usually specified by the designated Radiation Protection Advisor (RPA). All doors have a solid core, lipped on the long edges but with the lead extending to the full door size. Hinged double doorsets with equal or unequal leaves have lead protected meeting stiles. To ensure the quality and strength of our doorsets, standard door frames and lippings are of hardwood construction.
A range of finished are available. Doors can be provided primed ready for painting, with a sealed hardwood veneered for finishing, or covered in plastic laminate. Doors can be manufactured using FSC™ certified materials on request.
In addition to our standard design, doorsets can be produced to meet specific customer requirements.
British Standard Lead Thickness
Code 3
1.32mm
Code 4
1.80mm
Code 5
2.24mm
Code 6
2.65mm
Code 7
3.15mm
Code 8
3.55mm
We manufacture X-ray protective observation windows to give full protection to the total structural opening based on the energy emitted by the X-ray or Gamma source. The structure and shielding composition of the surrounding walls together with the work procedures of each specific room are also taken into consideration.
Window frames have a similar construction to those used for doors and are offered in a selection of hardwoods for paint or sealed finish and in profiles to match other frames. Frames are produced with any thickness of lead lining. The most popular being Code 3 (1.32mm) and Code 5 (2.24mm). Multiple windows can be produced with leaded 'H' bars at the glass joints or frames divided by leaded timber mullions, as shown in the images above.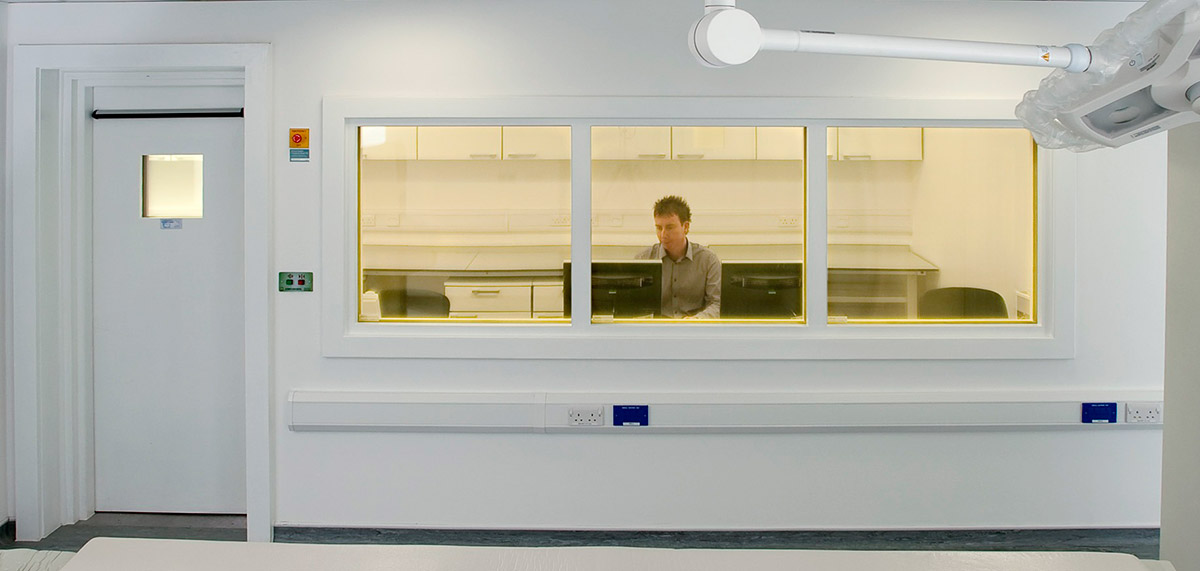 The picture above shows a 22mm lead observation window installed at the Wolfson Institute at Hammersmith Hospital, London. The three sections are joined by protected mullions and sit in an overall leaded frame 3000mm x 1000mm. Even though the window consists of multiple layers of lead glass it retains excellent clarity.
Lead glass is available from stock in a selection of thicknesses. We are pleased to manufacture windows in any size. However, in view of the high cost of lead glass we are listing glass sizes available from our bulk stocks offering the minimum amount of wastage.
Non-standard sizes are available to special order. Please contact our sales office for further information.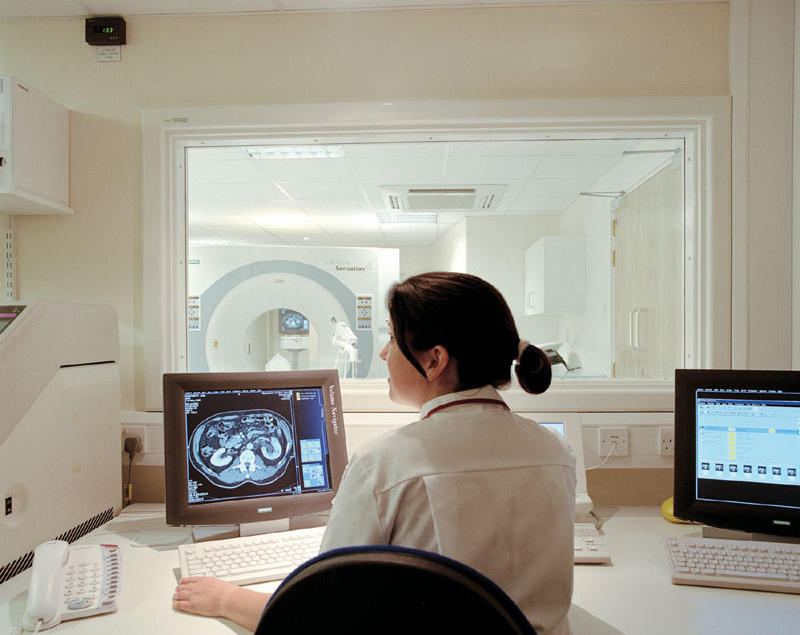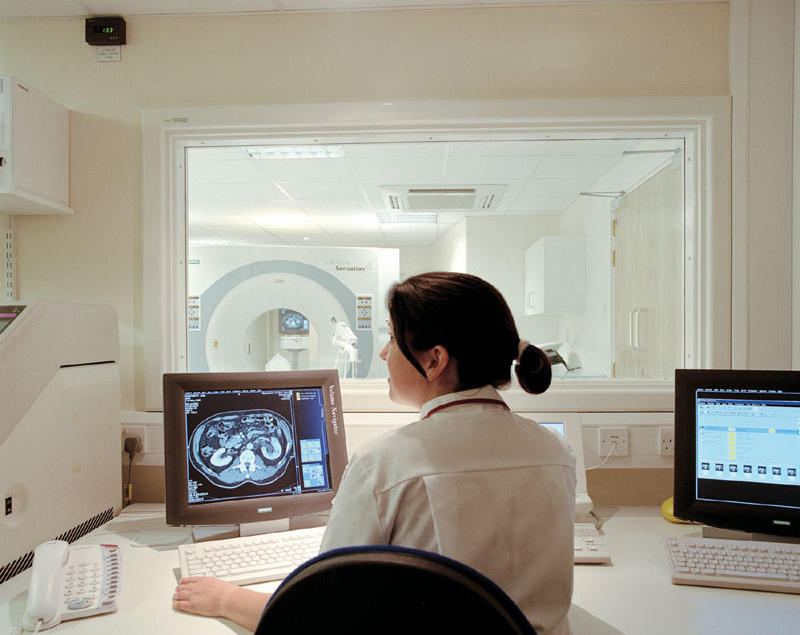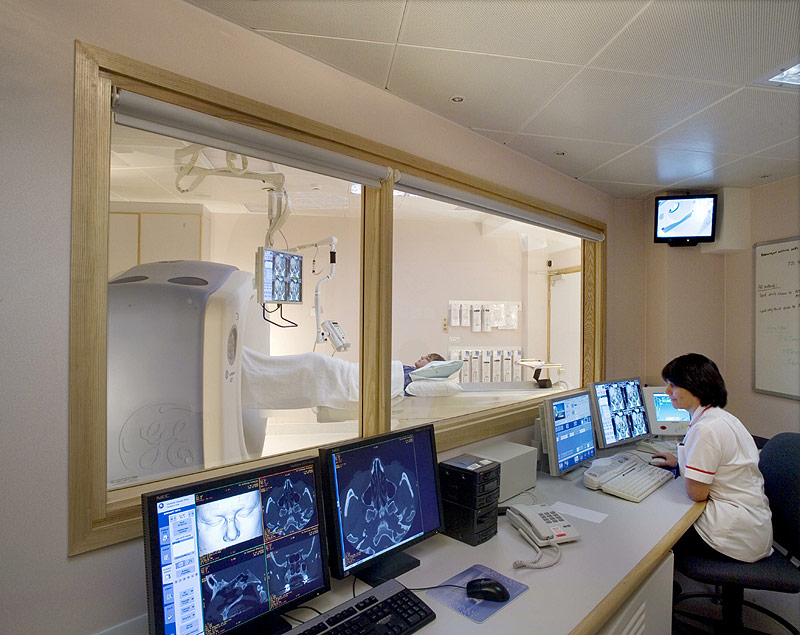 Standard Window Sizes
Structural Opening
Glass Size
1100mm
1100mm
1000mm
1000mm
1100mm
1300mm
1000mm
1200mm
1100mm
1900mm
1000mm
1800mm
1100mm
2100mm
1000mm
2000mm
X-ray Shielded Vistamatic™ Windows
Wardray Premise X-ray Protective Screens are manufactured from a series of solid panels with a lead core faced on both sides by plastic laminate. Fixed angle joints are fully lead protected. Hinged wings are available with full protection and are fitted with a foot operated door holder.
The minimum recommended height is 2000mm in a panoramic style with 1000mm high solid panels and 1000mm high lead glass to the top edge. As all screens are purpose made any other combination of solid panel and glass can be accommodated. We recommend that using lead glass in stock sizes will eliminate waste and offer a more cost effective solution.
The lead thickness will be determined by a Radiation Protection Advisor (RPA) and will normally be based on one of the British Standard codes listed together with the nearest lead glass equivalent. We recommend that you check that the slightly lower figures for lead glass are acceptable or advise us if the higher thickness is specified. This will result in a significant cost increase.
Screens are typically covered in white plastic laminate or you can specify a colour from any major laminate range (Formica, Perstorp, etc). We are also able to cover screens with custom artwork either chosen from our existing library or created to your specification by our in-house design team.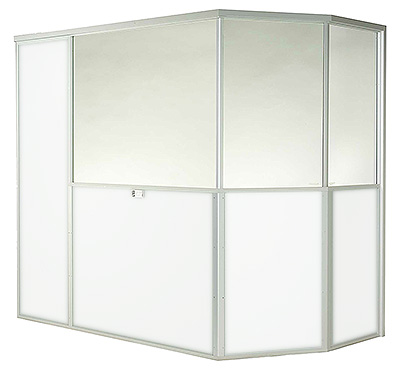 Examples of Coloured Finishes
Finish can be chosen from any major laminate range. Colours here are shown for illustration purposes only.
Screens are finished with satin anodised aluminium sections consisting of channels, angle sections to joints and beads to glazing areas. Panels with tube sections to the exposed edges give additional support and rigidity. With the exception of end sections supported hinged wings, the tube sections are not lead lined. This adds 40mm to the stated height and to each free end.
Although full height solid panels can be introduced in any section of a screen maximum vision into the room area is normally a preferred option. We do, however, require a solid infill panel where a screen meets a wall. A width of 100mm is sufficient and allows for scribing to walls that are not upright, eliminating any possibility of radiation leakage.
All screens are made to order to suit customer and site requirements. On receipt of a drawing of the room layout, indicating the approximate size and position of the screen, we would be pleased to offer planning advice and assistance to keep costs to a minimum.
All screens are MEIGaN compliant in line with the Medicines and Healthcare Products Regulatory Agency (MHRA) guidelines. This requirement states that all accessible conductive surfaces should be earthed to ensure the safety of patients and staff.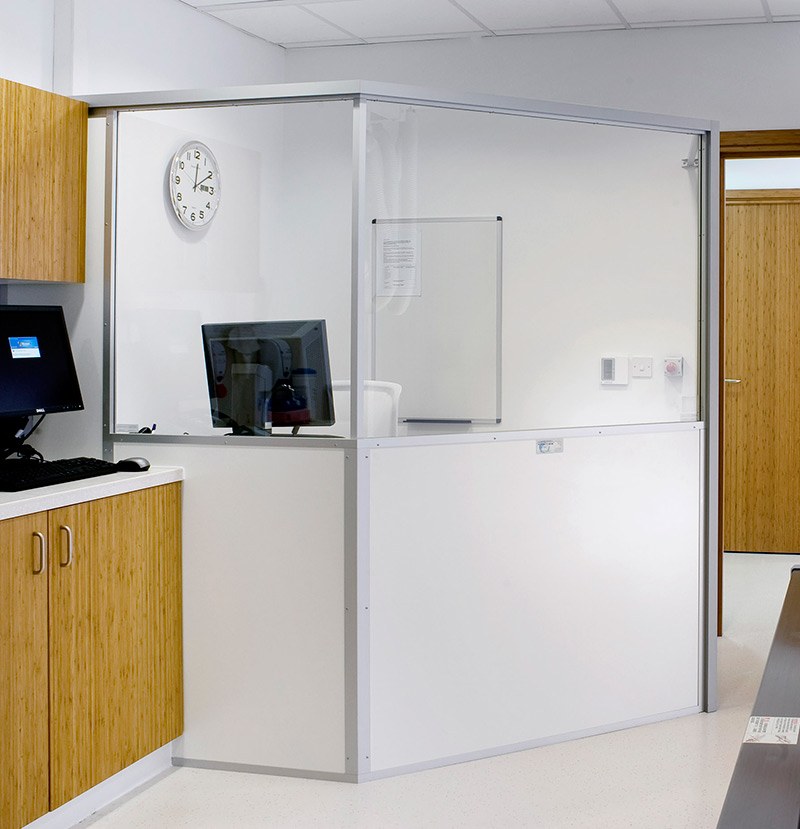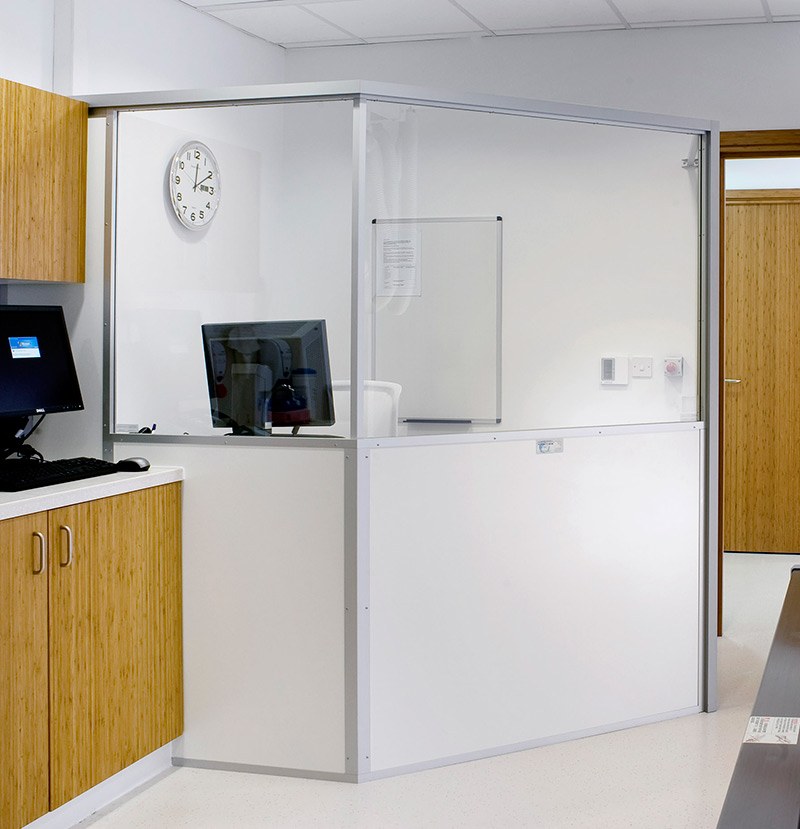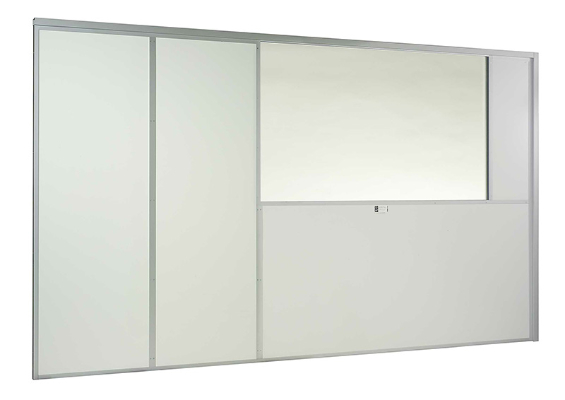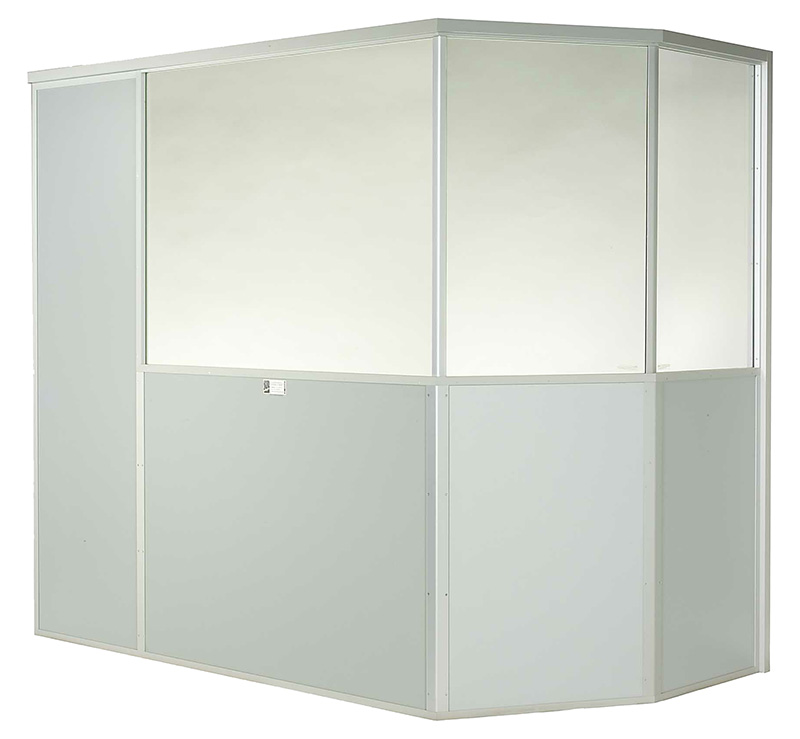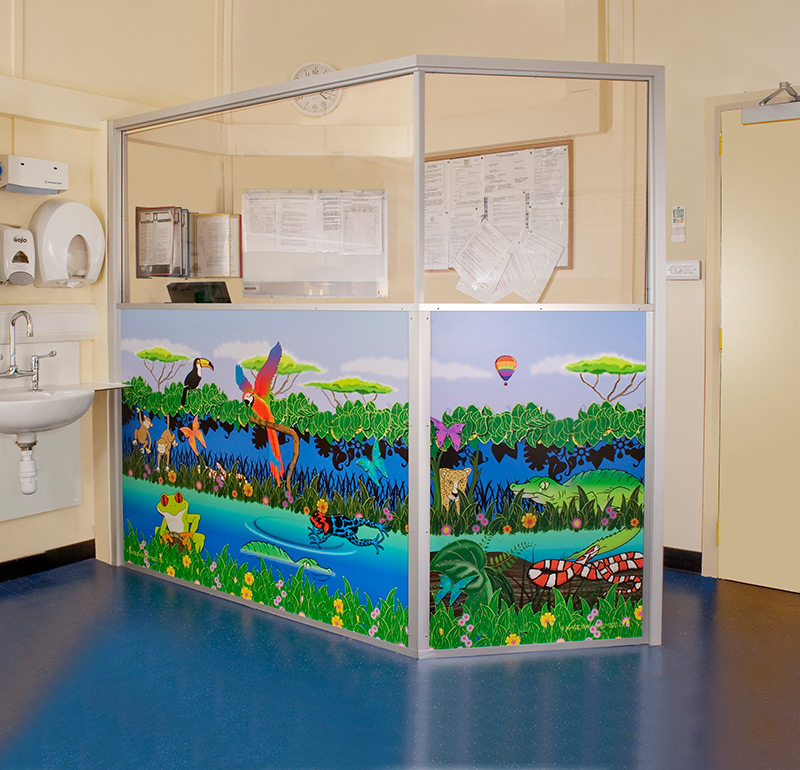 British Standard Lead Thickness
BS Code
Lead
Lead Glass
Code 4
1.80mm
1.5mm Pb @ 150kV
Code 5
2.24mm
2.0mm Pb @ 150kV
Code 6
2.65mm
2.6mm Pb @ 150kV
Curtains are produced from multiple layers of lead PVC equivalent to 0.50mm Pb. Each Curtain is covered with a hardwearing layer of PU coated nylon Ultraflex® material.
Designed to give long service in the most demanding of conditions. Each curtain is fitted with five reinforced eyelets, 25mm from their centres to the top edge and supported on nylon roller carriers for easy movement.
Curtains should be overlapped by securing adjacent eyelets to one carrier. This creates an overlap of 75mm and as an example four curtains will span a total width of 2175mm.
A standard curtain 600mm wide with 0.50mm Pb equivalent weighs 12kg. Other thicknesses are available on request.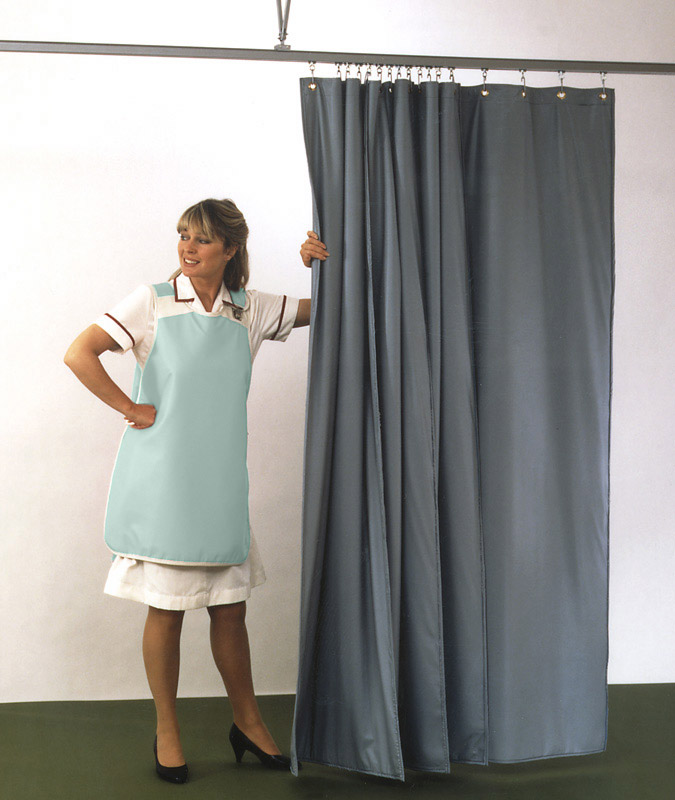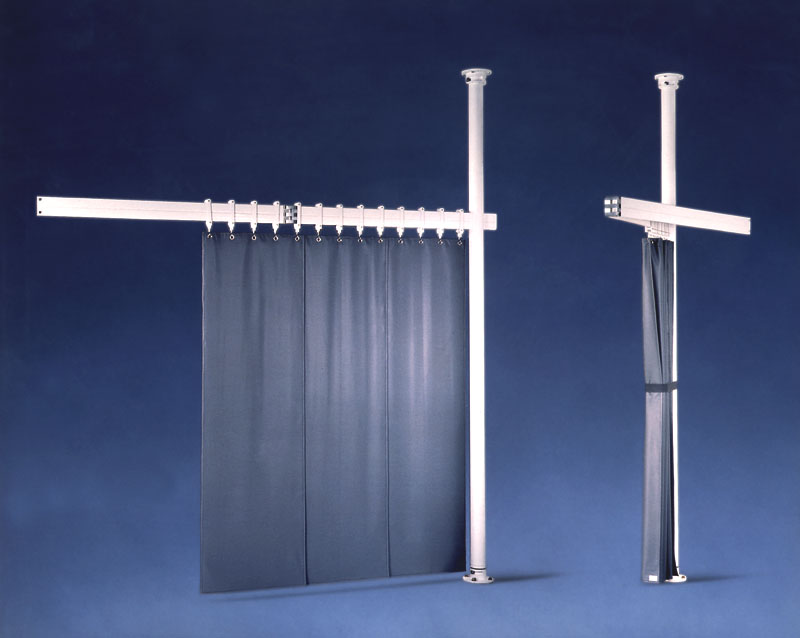 Using high energy X-ray units or Gamma sources such as Iridium 192, it is possible to carry out detailed inspections of materials to detect metal fatigue or faults in the weld of manufactured components.
Requiring high levels of shielding, these facilities can be rooms or inspection cabinets. The rooms are often large and can accommodate forklift access.
Concrete structures for rooms will be preferred where space permits and will include power operated lead lined doors, with a safety interlocking system. The facility has a separate control room which may require the use of CCTV cameras to monitor procedures.
Cabinets will typically consist of a steel framework clad in lead plywood or interlocking chevron bricks, complete with doors and shielded access points for services.
Additional security arrangements may be required for some radiation sources, e.g. lockable door control panels and additional security locks.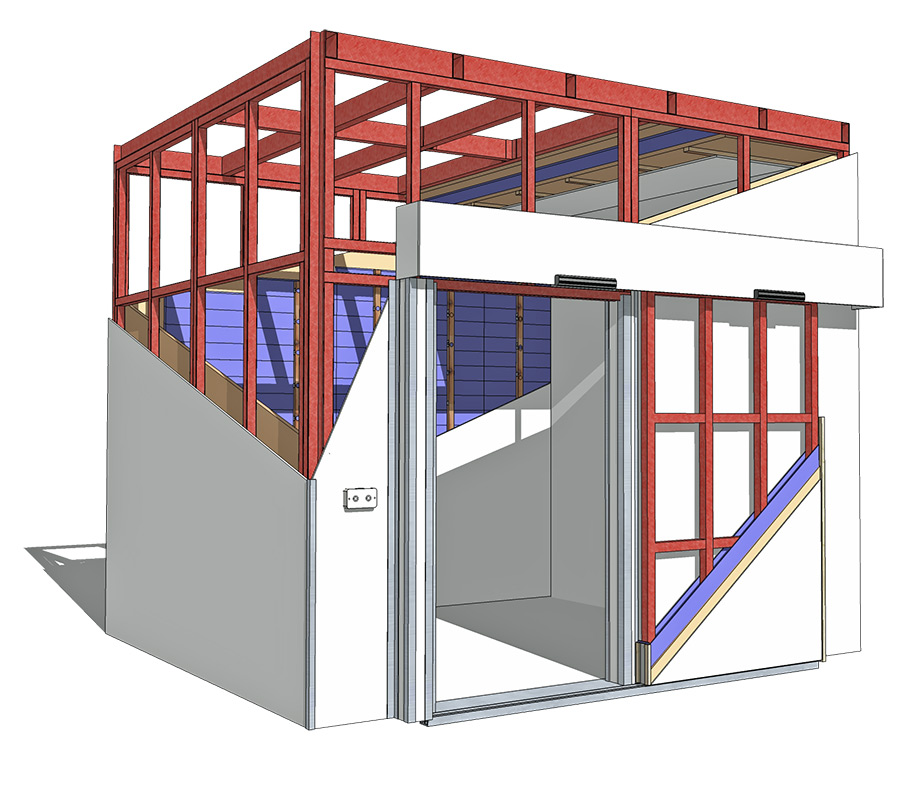 While we encourage you to utilise our expertise to provide a total radiation shielding package, we do recognise that in some circumstances the 'supply only' of these materials is more appropriate.
These materials are used within our own specialist products to provide effective shielding from:
X-ray, Gamma & Neutron emissions
Radio Frequency and Magnetic interference
Creating a safe environment for patients, staff and members of the public.
We offer a fast and efficient service at competitive prices. Many items are held in stock for fast delivery times.