X-ray Protective Curtains
Curtains are produced from multiple layers of lead PVC equivalent to 0.50mm Pb. Each Curtain is covered with a hardwearing layer of PU coated nylon Ultraflex® material.
Designed to give long service in the most demanding of conditions. Each curtain is fitted with five reinforced eyelets, 25mm from their centres to the top edge and supported on nylon roller carriers for easy movement.
Curtains should be overlapped by securing adjacent eyelets to one carrier. This creates an overlap of 75mm and as an example four curtains will span a total width of 2175mm.
A standard curtain 600mm wide with 0.50mm Pb equivalent weighs 12kg. Other thicknesses are available on request.
Fixed Track Curtains
The traditional curtain system combines the hardwearing flexibility of Ultraflex® protective products with a heavy duty track. The track can be manufactured in straight lengths up to 6000mm with the option of a selection of curved sections. Mounting brackets will be supplied to site conditions.
The track is 35mm wide x 40mm high. The gap between the bottom of the track and the top edge of curtain is 40mm.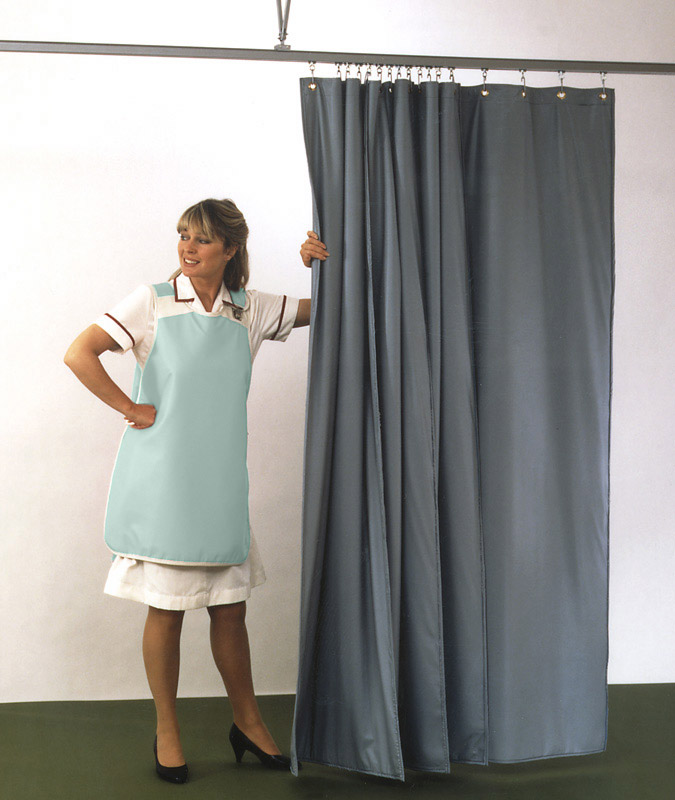 Rotating Track Curtains
This provides a convenient and efficient shielding solution in Accident and Resuscitation areas without restricting the free movement of the overhead or mobile x-ray tube.
The central pillar with one fixed arm rotates to provide an extension of 1210mm. A further double hinged arm 1210mm long extends to give effective support for a series of curtains to a total length of 2400mm. Curtains are 1900mm long.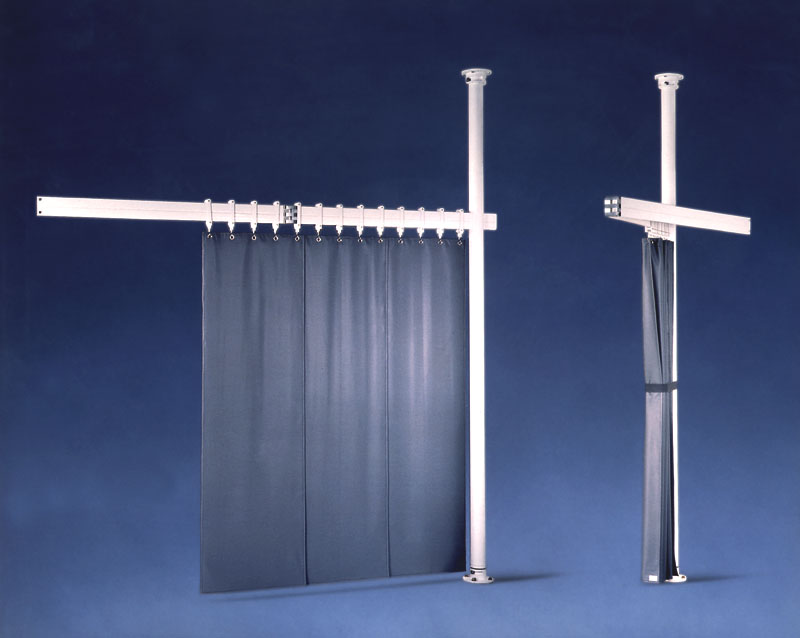 To help us provide an accurate quotation please supply the following information with your enquiry:
Fixed or rotating track
Track length
Any requirement for curved sections
Ceiling height
Ceiling construction
Area requiring protection or number of curtains
Curtain colour
Please contact us for further information or to discuss your structural radiation shielding requirements.