X-ray Protective Door Sets
Our hinged and sliding doors provide X-ray shielding for a structural opening. The construction will be based on the energy emitted by the x-ray or Gamma source, the structure and shielding composition of the surrounding walls, together with the work procedures of each specific room.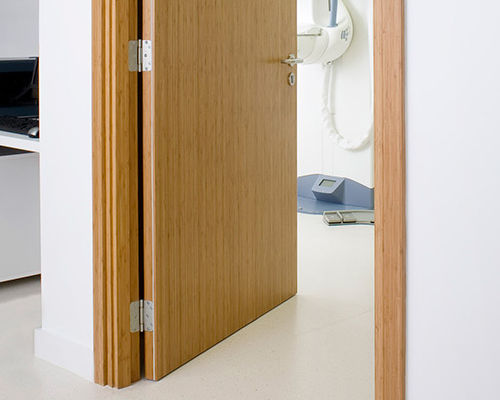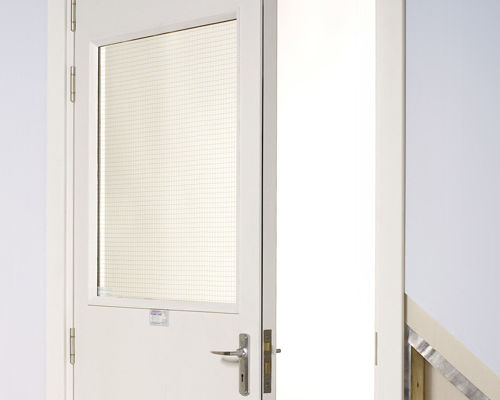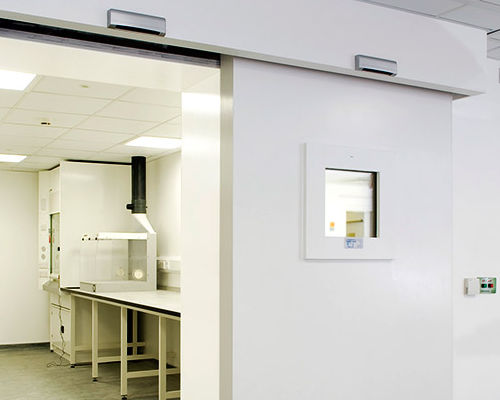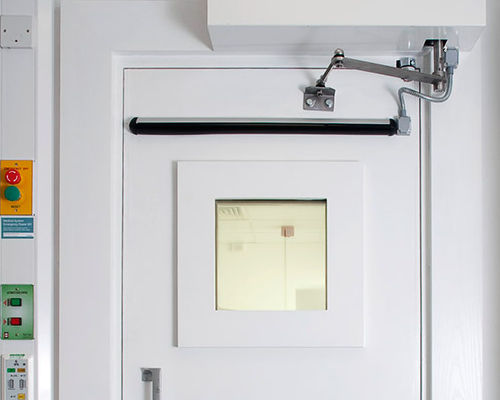 The lead thickness will usually specified by the designated Radiation Protection Advisor (RPA). All doors have a solid core, lipped on the long edges but with the lead extending to the full door size. Hinged double doorsets with equal or unequal leaves have lead protected meeting stiles. To ensure the quality and strength of our doorsets, standard door frames and lippings are of hardwood construction.
A range of finished are available. Doors can be provided primed ready for painting, with a sealed hardwood veneered for finishing, or covered in plastic laminate. Doors can be manufactured using FSC™ certified materials on request.
In addition to our standard design, doorsets can be produced to meet specific customer requirements.
Our standard design, used in diagnostic applications, is suitable for use within walls where their overall density and thickness provides the necessary shielding. If lead is the primary shielding material this design assumes that it is installed on the inside wall of the X-ray room.
To calculate the structural opening using our standard hardwood doorframe (45mm thick), add 100mm to the width and 50mm to the height of the proposed door size. Storey height frames can be manufactured with either a fixed or removable over door panel. There is also the option of a transom with glazed or solid panel above.
Unless otherwise requested, doors are constructed to open into the X-ray room.
When placing an order, please also confirm handing arrangements.
Single Doorsets
With door opening towards you are the hinges on the left or right hand side?
Double Doorsets
With doors opening towards you are the hinges supporting the leading leaf on the left or right hand side?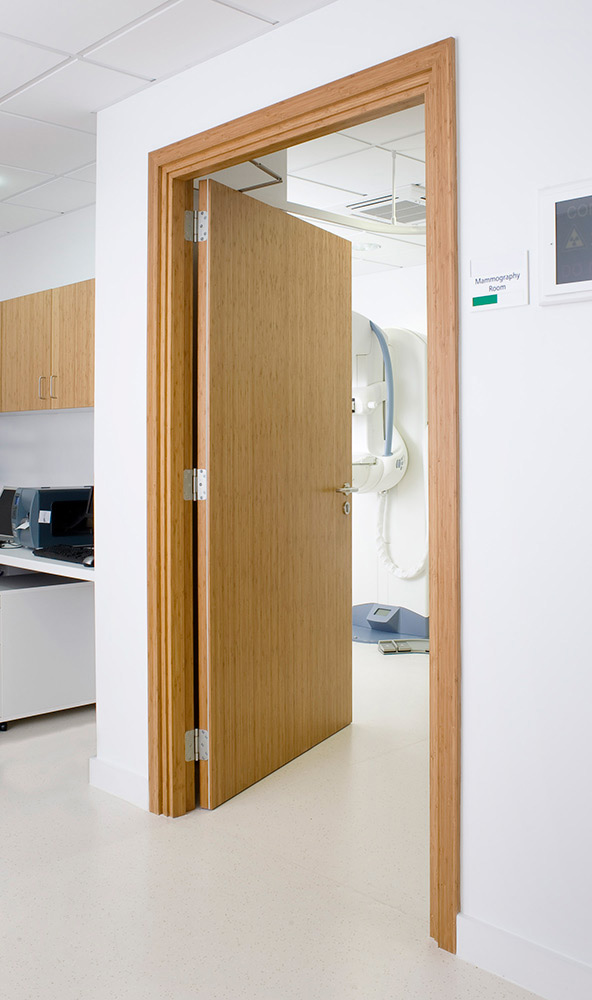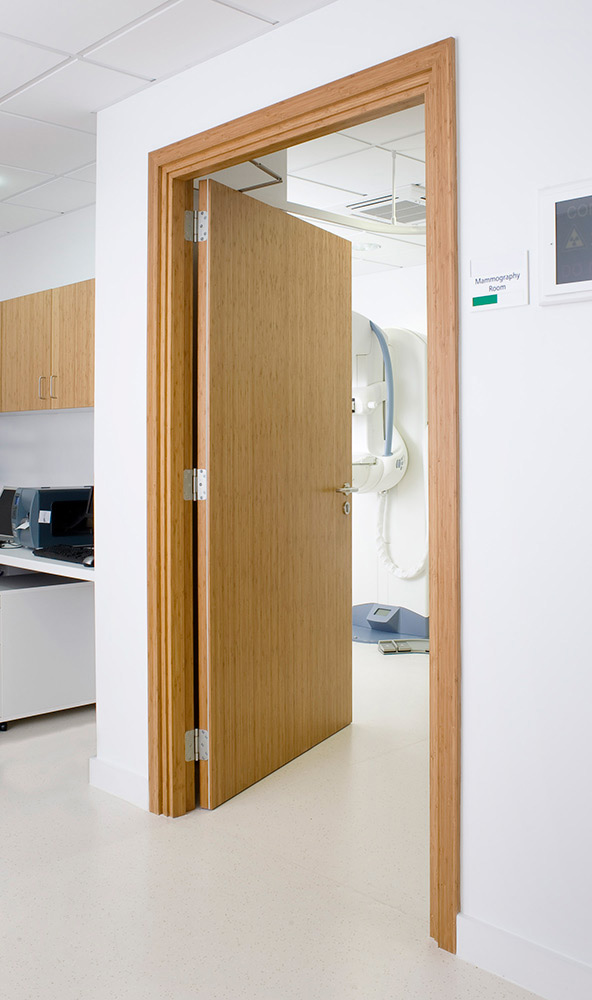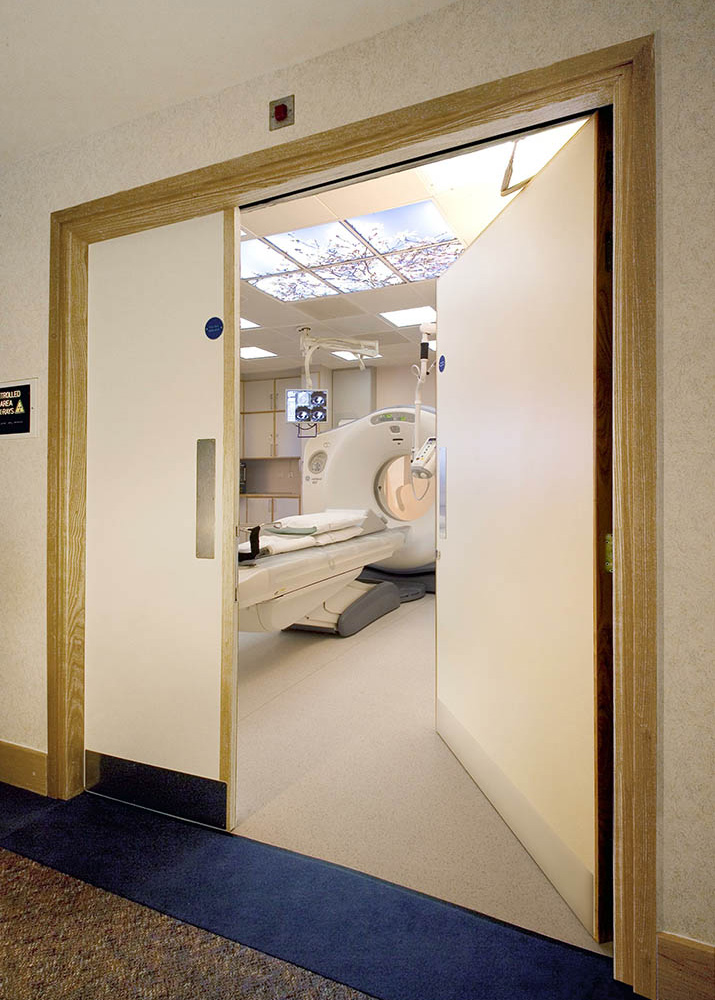 Wardray Fire Doors are manufactured to our Global Fire Resistance Assessment (details available upon request) to give either 30 minute or 60 minute fire resistance. Our certification covers doorsets with lead thickness from Code 3 (1.32mm) to Code 8 (3.55mm).
Single doorsets can be supplied in door leaves to a maximum size 2100mm x 1000mm with the option of an over panel up to 1500mm high. Double doorsets can be supplied to a maximum size of 2100mm x 2000mm with the larger leaf no greater than 1000mm wide .There is the option of an over panel up to 1000mm high.
Each door leaf is hung on 4 hinges to an accredited specification and other specified ironmongery is available on request. For 30 minute fire resisting doors only, there are options for lead glass windows up to a maximum of 0.58 square metres but with no opening less than 90mm from any door edge.
Multiple windows can be supplied with a minimum of 150mm between each window aperture.
To ensure the integrity of a fire resisting doorset, amendments (such as glazing panels) cannot be added by a third party once the door has been installed.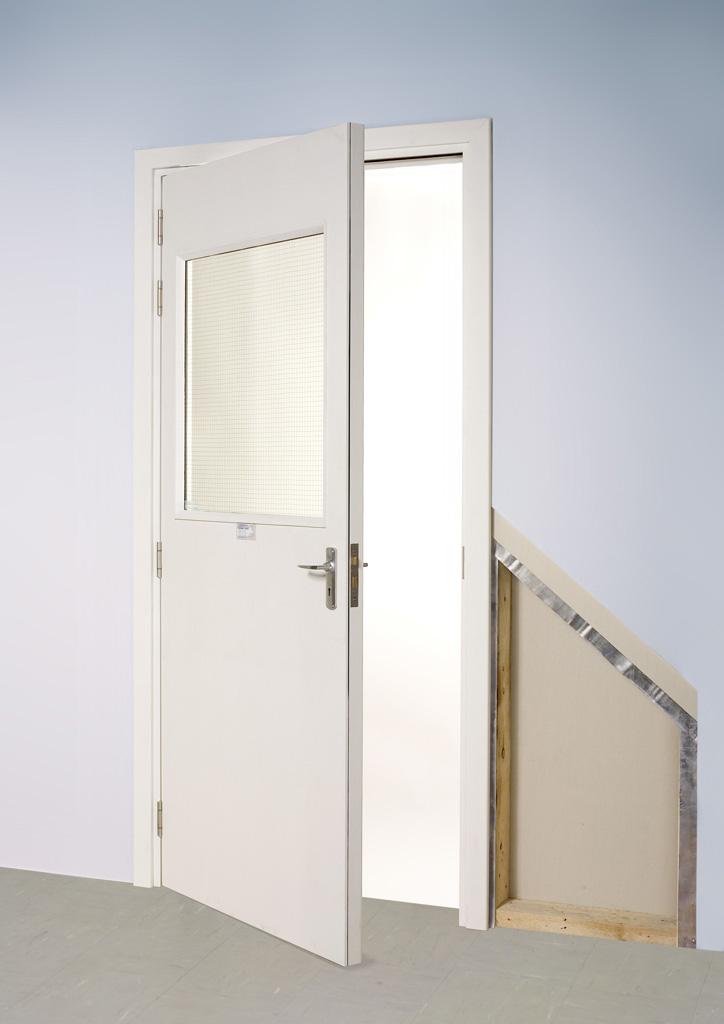 As a general guide for sliding doorsets up to Code 8 lead the structural opening should be approximately 190mm width and 40mm taller than the clear opening size.
The clear opening width is defined as being from the door edge in the "fully open" position to the opposite frame. The door in this position is held by a floor stop, to allow easy access to handles on both sides.
We recommend that the doors are installed on the outside wall face of the room. When placing an order, please confirm the sliding arrangements. Viewed from the side of the opening to be fitted with the door, does it slide to the left or to the right of the opening?
Please also confirm that there is sufficient wall clearance around the structural opening and that the wall construction is suitable for the door loadings.
Please inform us of any variation to these conditions at the time of enquiry to ensure that the design and construction is modified to give complete shielding integrity.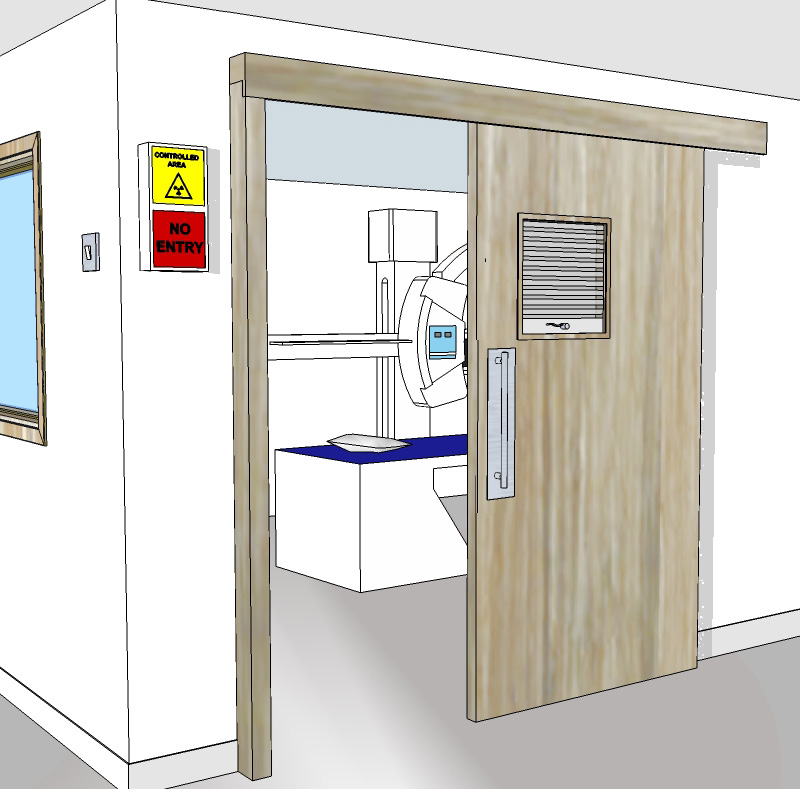 We have designed, manufactured and installed power operated doorsets at diagnostic centres around the world. In many instances the shielding is also extended to walls, ceilings and floors. Installations have been completed for numerous high energy medical diagnostic and treatment rooms
Similar designs have also been used on many industrial sites where the facilities involve Non-Destructive Testing. The construction techniques are usually different to those used in standard diagnostic applications.
Our total shielding package can include a complete survey by our Radiation Protection Advisor to calculate the necessary lead thickness for each individual site. This will be based on local site conditions and working practices to ensure maximum safety in the most cost effective manner. Currently, the record for the maximum lead thickness for a door installation is 240mm!
As always special attention is paid to the integrity of the overall shielding to the structural opening. Lead lined door frames or linings are fitted within the door openings with particular attention to shielding across the door threshold. This takes into consideration the need for easy trolley access and cleaning, particularly in medical applications.
Doors are manufactured using a tubular steel framework. Lead is fitted to both faces of the door to provide and easy and balanced movement. Doors are supported on heavy duty pivots or high capacity sliding door gear. Any specified paint, veneer or plastic laminate finish is available.
Power operation is provided for all types of doors, complete with all necessary safety systems to meet specific site requirements and local regulations.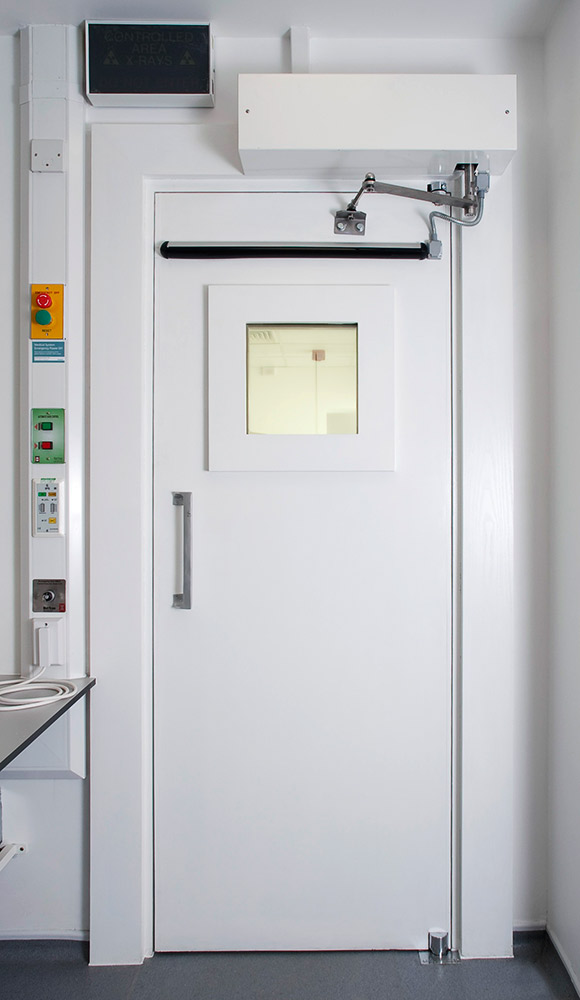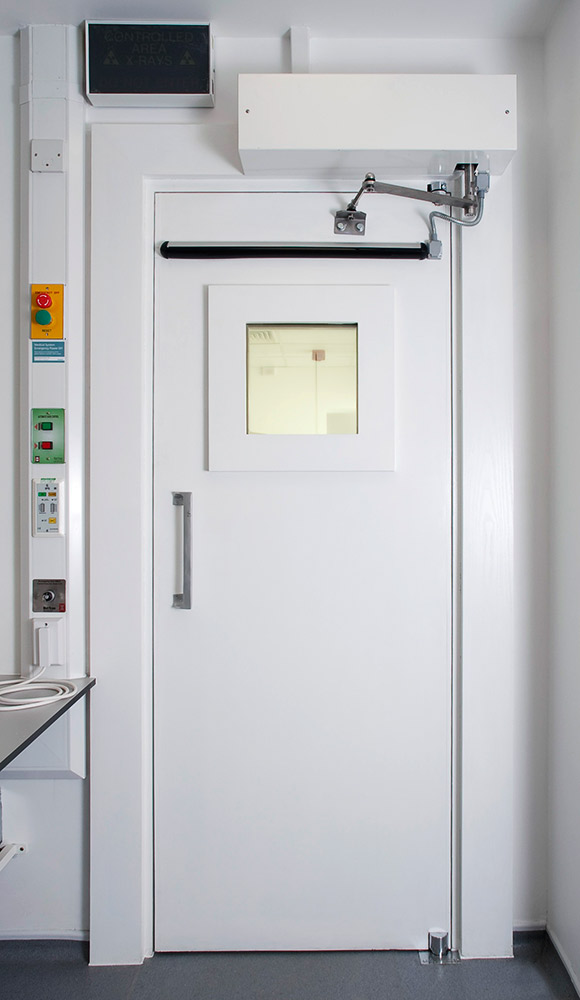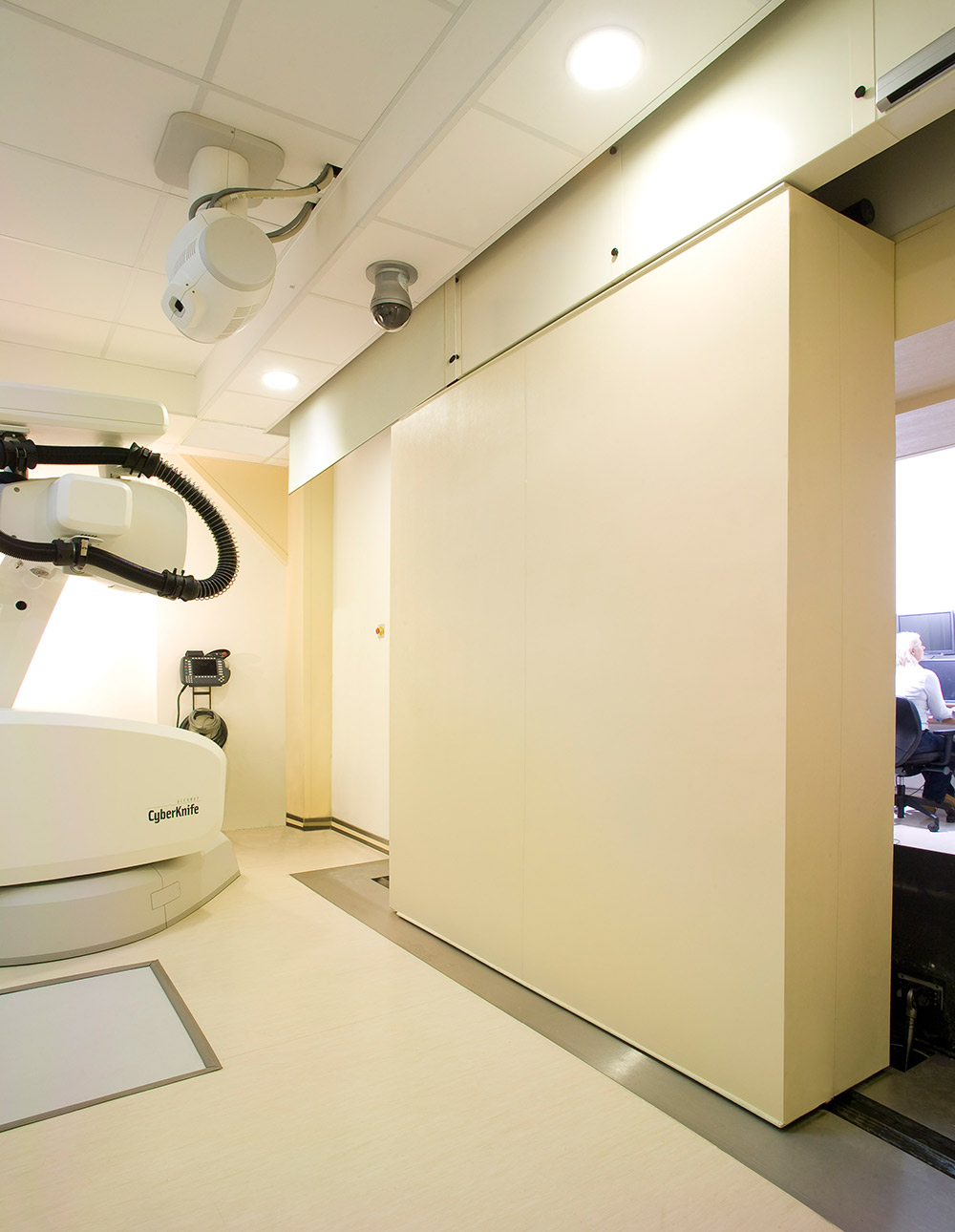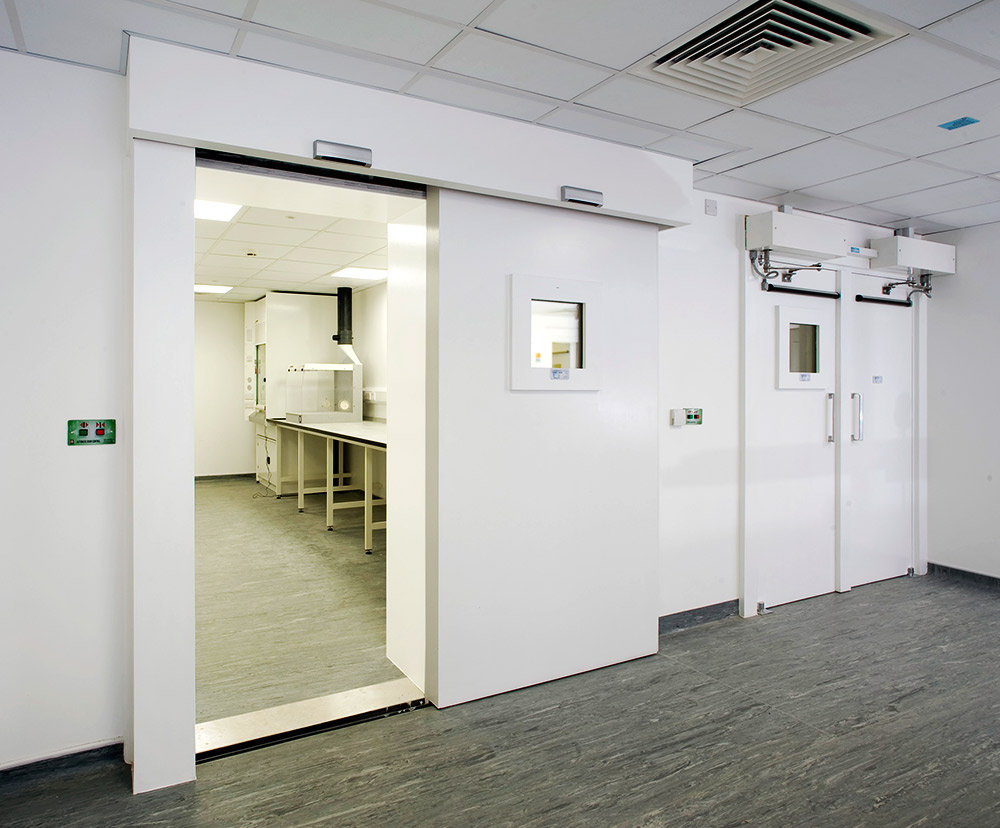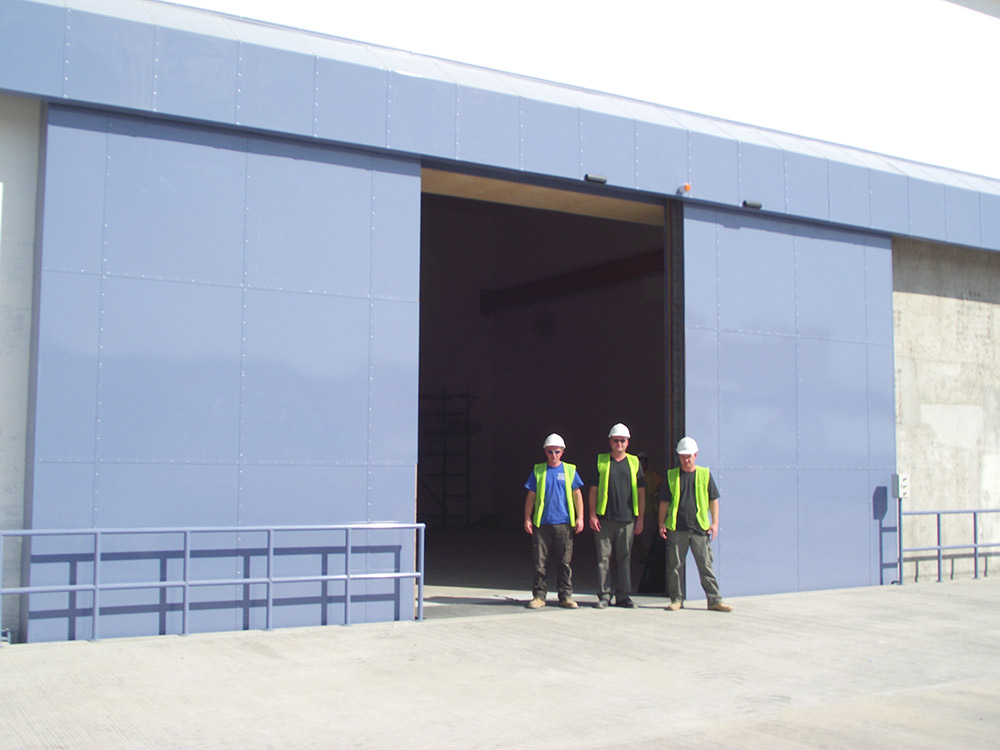 To help us provide an accurate quotation please supply the following information with your enquiry:
If available, a drawing or dimensioned sketch.
Lead thickness expressed in millimetres or British Standard (BS) code (see table).
Are the doors single or double leaves.
Frame construction and required finish. Standard frame is Ash. Other finishes are available.
Are doors to open "in to" or "out of" the room.
The structural opening size if available or door size required.
Is power operation required (we recommend a risk assessment is carried out to establish this requirement). Automated systems can be supplied for both hinged and sliding doors and include full safety systems.
Confirm handing or sliding arrangement.
Wall thickness and construction. We will make allowance for any protective panelling that we supply.
Hinged doorsets only:- is there a 30min or 60min fire rating requirement.
Sliding door assemblies only:- please confirm that there is sufficient wall clearance around the structural opening.
Finish: primed for painting, veneered hardwood sealed for finishing or plastic laminate.
Other options e.g. power operation, windows, ventilation grilles, kick plates, furniture, etc.
Supply of goods only or supply and install by our own professional installation team.
Are doorsets to be manufactured using FSC™ certified materials?
British Standard Lead Thickness
Code 3
1.32mm
Code 4
1.80mm
Code 5
2.24mm
Code 6
2.65mm
Code 7
3.15mm
Code 8
3.55mm
Please contact us for further information or to discuss your structural radiation shielding requirements.