X-ray Protective Screens
Wardray Premise X-ray Protective Screens are manufactured from a series of solid panels with a lead core faced on both sides by plastic laminate. Fixed angle joints are fully lead protected. Hinged wings are available with full protection and are fitted with a foot operated door holder.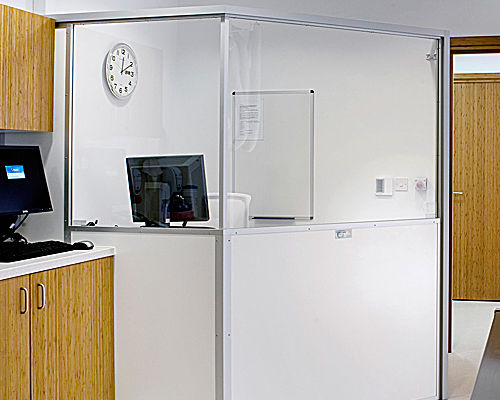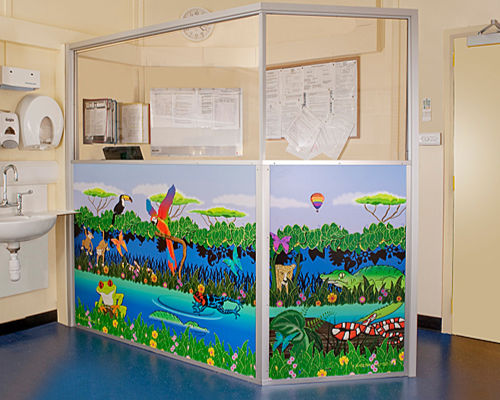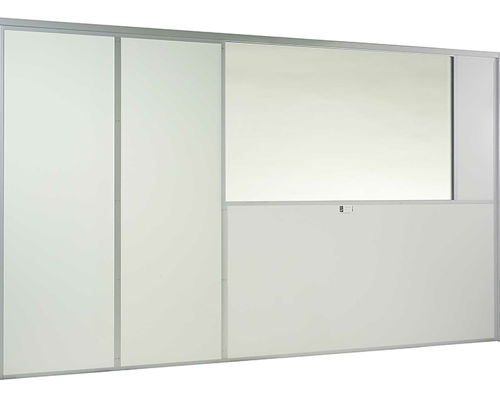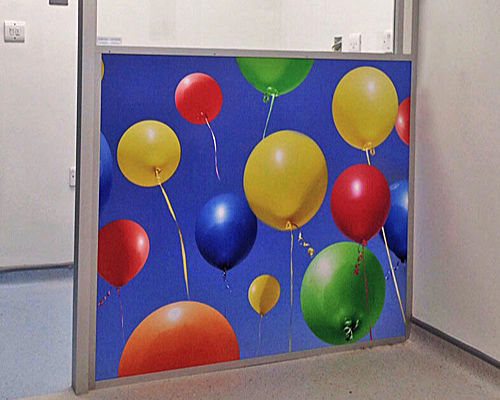 The minimum recommended height is 2000mm in a panoramic style with 1000mm high solid panels and 1000mm high lead glass to the top edge. As all screens are purpose made any other combination of solid panel and glass can be accommodated. We recommend that using lead glass in stock sizes will eliminate waste and offer a more cost effective solution.
The lead thickness will be determined by a Radiation Protection Advisor (RPA) and will normally be based on one of the British Standard codes listed together with the nearest lead glass equivalent. We recommend that you check that the slightly lower figures for lead glass are acceptable or advise us if the higher thickness is specified. This will result in a significant cost increase.
Although full height solid panels can be introduced in any section of a screen maximum vision into the room area is normally a preferred option. We do, however, require a solid infill panel where a screen meets a wall. A width of 100mm is sufficient and allows for scribing to walls that are not upright, eliminating any possibility of radiation leakage.
All screens are made to order to suit customer and site requirements. On receipt of a drawing of the room layout, indicating the approximate size and position of the screen, we would be pleased to offer planning advice and assistance to keep costs to a minimum.
British Standard Lead Thickness
BS Code
Lead
Lead Glass
Code 4
1.80mm
1.5mm Pb @ 150kV
Code 5
2.24mm
2.0mm Pb @ 150kV
Code 6
2.65mm
2.6mm Pb @ 150kV
Finish
Screens are typically covered in white plastic laminate or you can specify a colour from any major laminate range (Formica, Perstorp, etc). We are also able to cover screens with custom artwork either chosen from our existing library or created to your specification by our in-house design team.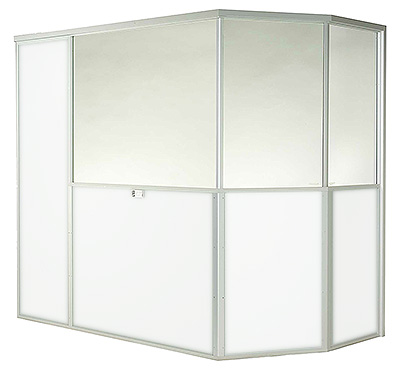 Examples of Coloured Finishes
Finish can be chosen from any major laminate range. Colours here are shown for illustration purposes only.
Screens are finished with satin anodised aluminium sections consisting of channels, angle sections to joints and beads to glazing areas. Panels with tube sections to the exposed edges give additional support and rigidity. With the exception of end sections supported hinged wings, the tube sections are not lead lined. This adds 40mm to the stated height and to each free end.
All screens are MEIGaN compliant in line with the Medicines and Healthcare Products Regulatory Agency (MHRA) guidelines. This requirement states that all accessible conductive surfaces should be earthed to ensure the safety of patients and staff.
To help us provide an accurate quotation please supply the following information with your enquiry:
If available, a drawing or dimensioned sketch.
Lead and lead glass thickness.
Size of panels, details of angle joints and/or hinged wings.
Size and position of glass.
Please confirm white plastic laminate finish or specify colour from any major laminate range (Formica, Perstorp etc)
Position of adjacent walls for supporting stays.
Supply of goods only or supply and fix by our own professional installation teams.
Additional requirements: e.g. safety glass or privacy glass.
Please contact us for further information or to discuss your structural radiation shielding requirements.